StarterStudio's Board of Directors Welcomes Three Influential Women Leaders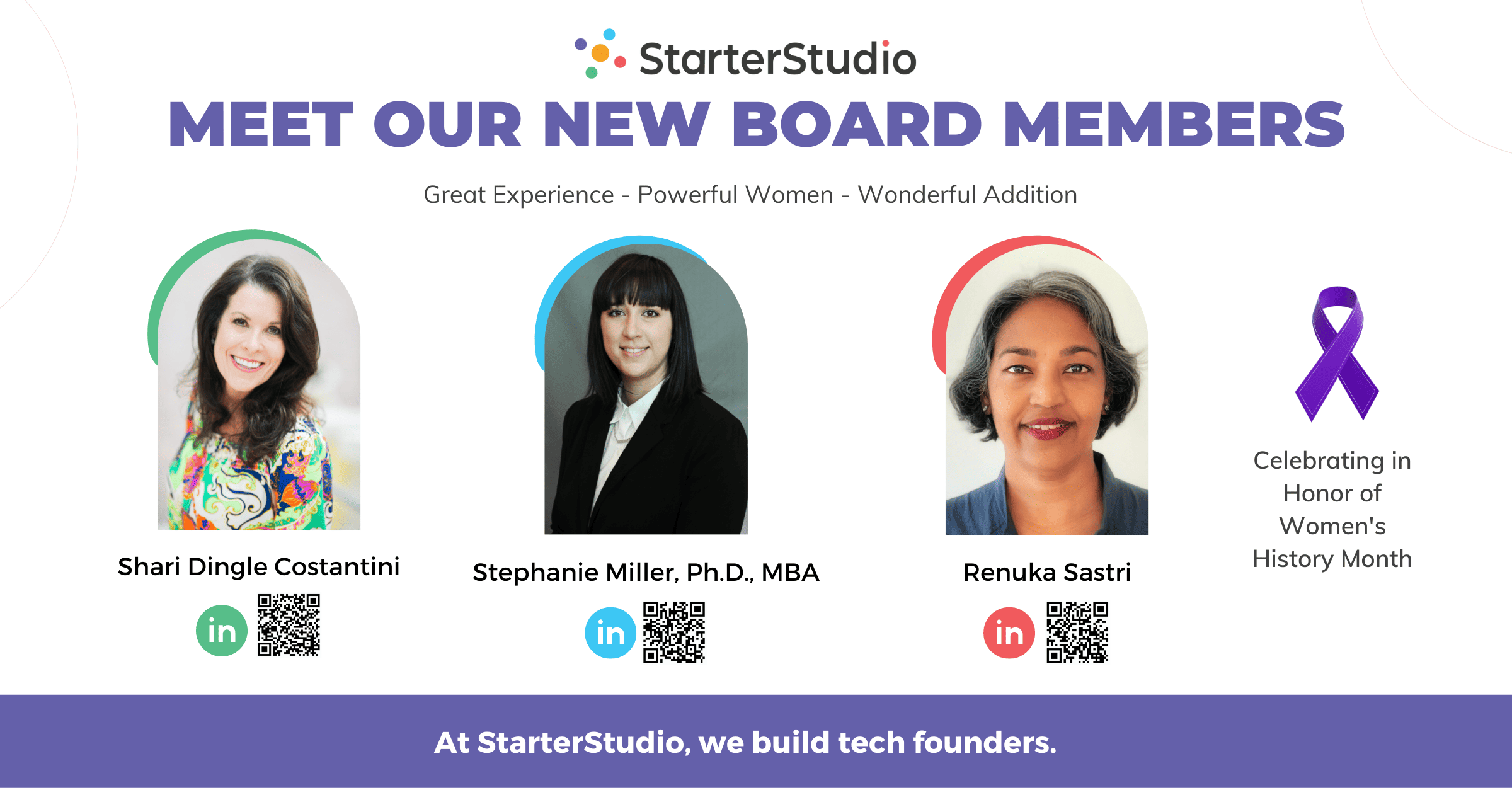 Announcement Comes During Women's History Month Highlighting the Impact of Strong Women Business Leaders Shaping StarterStudio's Future Growth‍‍
For 35 years, Women's History Month has been instrumental in shining the spotlight on the role women have played in impacting history, culture, and society. This annual celebration featured during the month of March is the perfect time for StarterStudio, Orlando's only nonprofit 501(c)(3) tech accelerator, to announce the recruitment of three outstanding women business leaders: Shari Dingle Costantini, Stephanie Miller, Ph.D., and Renuka Sastri to serve on its advisory board, shaping its next phase of growth.
Shari Costantini, a successful entrepreneur, and C-level executive heads Ascendancy Partners, where she consults with startup and growth companies in a variety of industries. Costantini knows what it means to start, scale, and stay in Central Florida having founded, built Avant Healthcare Professionals, an industry-leading company in international healthcare staffing through angel, strategic and private equity investments, exiting in 2021. Over 18 years she led Avanti to earn recognition as a seven-time Inc. 500 company, a 250 Fastest Growing Companies in Florida, a three-time 50 Fastest-Growing Women-Owned/Led Companies in North America, four-time Gator 100, a 2017 SMART Award Winner, and 2012Florida Companies to Watch. Costantini was herself Florida Region EY Entrepreneur of the Year in 2017. She is a force in the community on numerous business and nonprofit boards and as a mentor and advisor to growth companies in the region.
Stephanie A. Miller, Ph.D., leads Embry-Riddle University's Research Park where she supports innovators and founders through the startup lifecycle with particular emphasis on biomedical, engineering, software, and aerospace industries. Miller has had her own startup experiences in helping establish three innovation-based businesses. Miller established the university's first technology transfer office, enabling university research results to become real-world products. In this capacity she evaluates ERAU inventions for intellectual property protection potential and markets those assets to industry for licensing, development, and production. Previously, she held positions at the University of Virginia Licensing & Ventures Group, evaluating and marketing technologies primarily in the areas of medical diagnostics and therapeutics.
Renuka Sastri brings deep community connections and professional experience in strategic planning, digital transformation, and capacity building at organizations such as AAA, accesso, and Citrix and currently, Orange County Government. Sastri chairs 100 Women Strong, a women's giving circle providing seed funding for programs that improve the lives of women and children in Central Florida. In addition, she is a member of the Orlando Tech Council, a public-private partnership that works to strengthen the region's innovation resources. Sastri is passionate about fostering connections across industries, nonprofits, and government to make Orlando a more resilient community.
"We are thrilled to have such powerful women join StarterStudio's board," says Lilian Myers, the organization's interim CEO. "Each brings with them unique backgrounds and experiences that will help us to further strengthen our service to the community in supporting founders and connecting them to all the expertise and community resources that drive our mission – economic and entrepreneurial diversity across the region. Our programs and their participants will feel the direct impact of these incredible women."