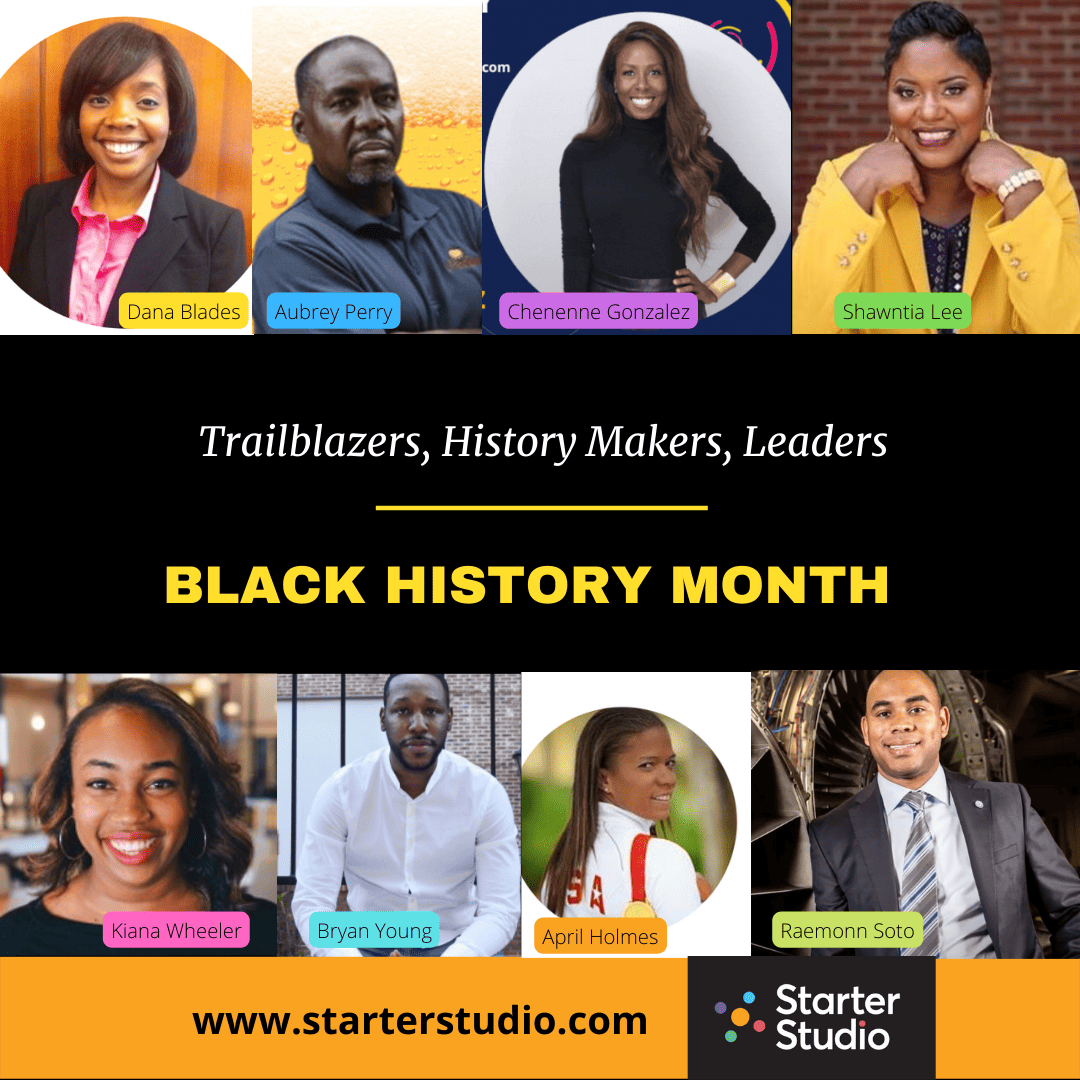 February was Black History Month.  It was the time to celebrate the achievements and contributions of Black Americans throughout American history and recognize the future leaders and innovators as they shape and reimagine the infinite possibilities that lie ahead.

As we think about the creators, the dreamers, and the makers – the future startups – we recognize the need for more Black-led tech startups.  As one of the resources that works with startups of all diverse backgrounds, StarterStudio is Orlando's only nonprofit 501(c)(3) tech accelerator.  We support Central Florida tech startup founders with robust and comprehensive educational programming, coaching, funding, and other resources needed to build successful companies that start here, stay here, and scale here in Central Florida.  And did we mention, unicorns originate here too!

As we celebrate Black achievers and contributors, we reflect upon StarterStudio's commitment to diversity and our community impact in 2021.   As detailed in our Annual Impact Report released in January, the statistics highlighted a compelling story over last year.  Diversity increased by 49% with more minority and women (27%) founders participating in the programs.  Veterans, LGBTQ+ and people over 40 also increased underscoring the impact made on the entrepreneurial ecosystem and in the Central Florida economy. Seven accelerator programs were offered, which was a 75% increase over 2020 and 65 companies participated, which increased by 117%.  Adding in the pandemic over the past two years and how we've grown our impact despite the challenges, that's a successful story!

Since StarterStudio's creation in 2013, it has run 27 accelerator programs and deployed more than $1 million from its evergreen seed fund to help tech founders start, scale, and stay in Central Florida.  181 companies have been supported since inception with 76% still operating.

With that being said, it's important to celebrate our Black starters and encourage more participation and innovation as we continue to strengthen and support a diverse economy with high value growth potential.  Here is a list of our incredible, Black-led startups:

College Thriver – College Thriver aims to bridge the equity gap for students of color by connecting them to timely college and career preparation tools and resources through technology.  Our mission is to make sure low-income and/or first-generation students have fair access to America's most intense college programs and succeed at the highest levels while keeping them in direct alignment with institutional goals and processes.  Founder: Shawntia Lee

Crackem – Find breweries near your current location. Redeem exclusive offers and earn rewards for visiting brewery taprooms. Founder: Aubrey Perry

Cloutt helps marketers to automate the customer success story process, connect these stories back to a key objective and goal as well as add value to streamline the use of customer success stories throughout the entire marketing strategy. Our product helps marketers get out of the corporate speak bubble and begin defining their go-to-market strategy around their customer success stories all in one platform and using the power of automation and predictive text.  Founder: Kiana Wheeler

Hero Hangout – HeroHangout is a fan engagement, knowledge-sharing app that helps parents connect their teens, to their favorite SuperHeroes (influencers), for a unique learning experience and social impact.   It's now available on the App Store.  Founder: April Holmes

Home Lending Pal creates a seamless, transparent and equitable home buying process for everyone.   Using artificial intelligence and blockchain, it improves the mortgage lending process for consumers, with a focus on underserved first-time home buyers.   The goal is to help one million people to buy their first home. Home Lending Pal engages with banks, credit unions, and non-bank lenders to provide a loan marketplace that shields consumers from lender biases. Founder: Bryan Young

INtv – a television application that would integrate with various websites and apps based on the content. The customizable user interface would feature various widgets including an advertisement widget where program sponsors could display their ads throughout the broadcast. This ad widget would also serve as a point-of-sale where users could make a purchase and convert advertisements directly into sales. Founder: Dana Blades

Promptly Polished – An online market where you can browse, select and purchase black beauty products from different designers.  Promptly Polished exists to build a supportive ecosystem for black owned businesses in the beauty industry through exposure, education and community reinvestment. If we all work together, we become stronger. We focus on helping to build a community based on meaningful relationships between black entrepreneurs and the buyers who commission their artistry.   Co–Founder: Chenenne Woods Gonzalez

Sensatek is a Venture Capital-backed company headquartered on Florida's Space Coast in Daytona Beach. Sensatek is positioned to be a market leader in asset health monitoring in equipment such as turbine engines, power systems used in HVAC systems, and power plants. Sensatek has invented a portfolio of predictive maintenance technologies that helps asset managers make timely recommendations to keep equipment running at its maximum efficiency. Sensatek has sold systems to Siemens, GE, Rolls Royce, and the U.S. Air Force. The Veteran-Owned company recently participated in the PenFed Foundation "Black History Month Ignition Challenge" and took the top spot – winning $25K! Founder: Reamonn Soto

We encourage you to support these businesses, watch them innovate and grow!  Celebrate their achievements and look for the inspiration they have on other Black founders on the rise! We look forward to our next group of starters and the impact they will continue to make on our entrepreneur ecosystem and beyond.  To apply to our Idea Stage Accelerator program, please visit our page and apply today.